Madrid in November | Weather, Museums, Attractions & More
Contents
Madrid is a treat for the eyes and there are many annual events that you can catch up on during the month of November. The city is constantly abuzz with energy and you can feel the excitement in the air. From the world-renowned museums to the lively nightlife, Madrid in November has something for everyone. The Virgen de la Almudena procession is carried out on the streets of Madrid by locals clad in traditional attire. Festival de Otoño, which invites artists from around the world for music, dance, and theaters, is loved by tourists visiting Madrid during November. So, if you're looking for a festive and eventful vacation, Madrid in November is the perfect time to visit!
Is November a Good Time to Visit Madrid?
November is considered to be one of the best times to visit Madrid. With not too much tourist influx as the weather starts getting a bit chilly, the accommodation prices slash significantly.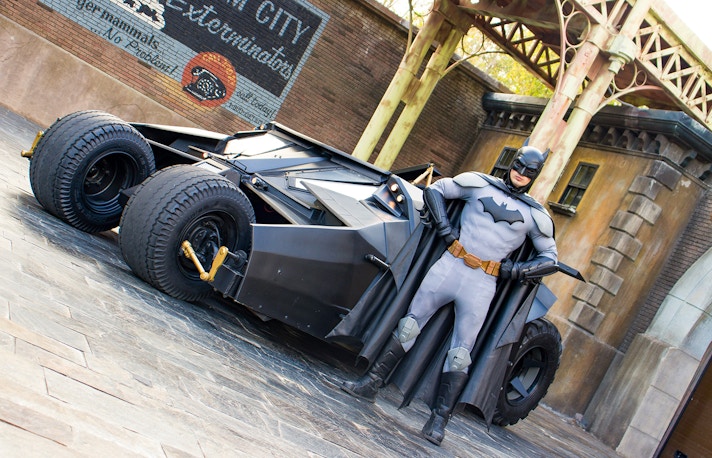 Why You Should Visit Madrid in November
Madrid is comparatively cheaper in November, and you get to enjoy the city amongst the locals. 
Tourist queues are less at every outdoor and indoor attraction, making the Madrid more welcoming. 
You can become a local in the midst of the locals and enjoy the culture of Madrid. 
The weather is not extremely cold, so you can partake in outdoor adventure activities too.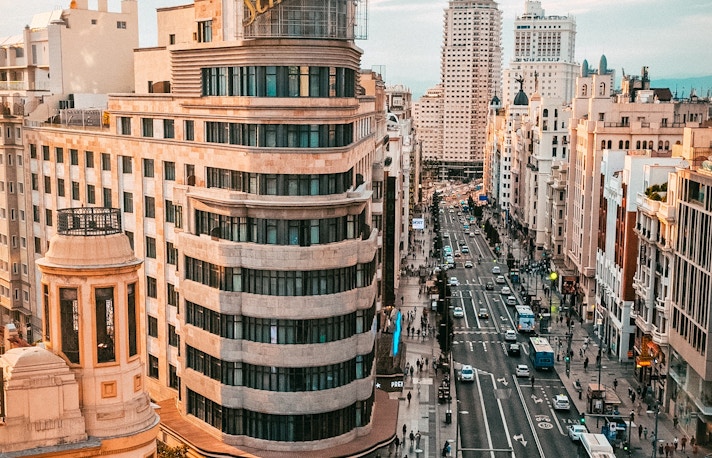 What to Look Out for in Madrid in November
If you are a big fan of tourisit-crowded spaces, you might not like to visit Madrid in November. 
The chances of unexpeceted rainfall in Madrid in November is high.
Overview of Weather in Madrid in November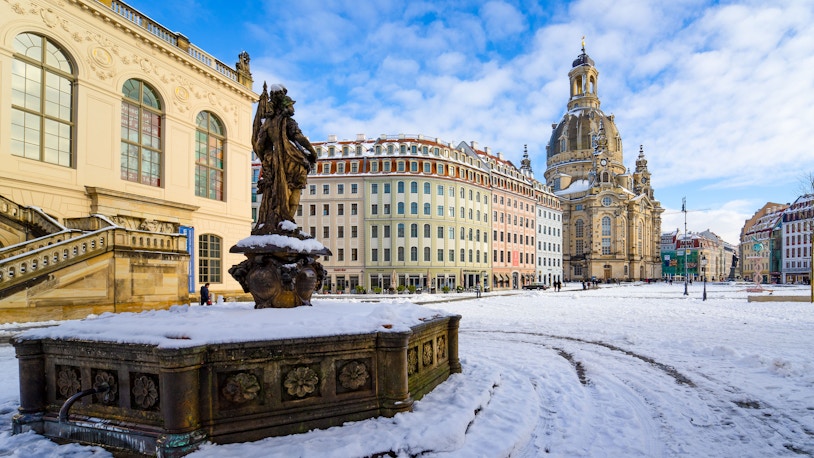 The temperature in Madrid in November is usually mild, with an average high of 17 degrees Celsius (63 degrees Fahrenheit). However, evenings can be chilly, so it's always a good idea to pack a sweater or light jacket.
Average temperature: 6 – 17 °C
Average Rainfall: 50 mm
Daily Wind Speed: 7.8 miles per hour
Best Time to Visit Madrid
Best Things to do in Madrid in November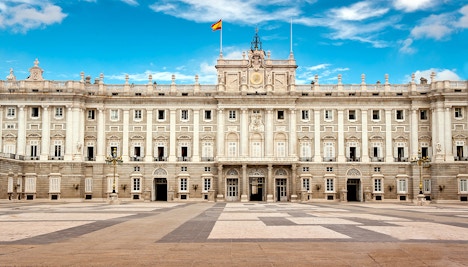 1. Royal Palace of Madrid
Palace | Must-See
The royal family of Spain moved to the modest Palacio de la Zarzuela years ago, and the Palacio Real is now only used for royal festivities on rare occasions. When the alcázar was destroyed in a fire in 1734, Felipe V, the first of the Bourbon kings, went on to build a palace to equal any in Europe.
November Timing: Daily 10 AM to 7 PM
from €12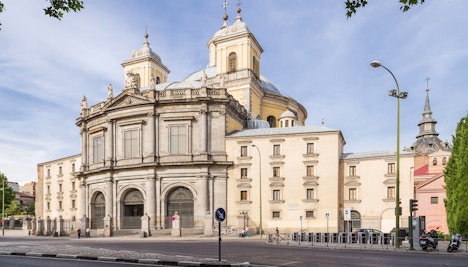 2. Royal Basilica of Saint Francis the Great
Religious Monument
The royal Catholic church in Madrid nestles a convent from the 13th century. Even though the paintings on the wall are quite new, painted somewhere near the 19th century, the domes and structure of the church give it an archaic look. 
November Timing: Daily: 8 AM - 10.30 AM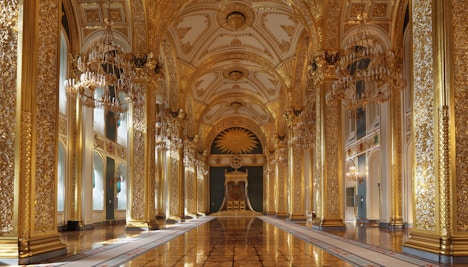 3. Liria Palace
Art and Architecture
Constructed around 1770, the neoclassical palace serves as the residence of the Dukes of Alba. Designed by Ventura Rodríguez, the palace facades were destroyed during the Civil war of Spain (1936-39). British architect Edwin Lutyens later restored the building in parts. The palace has paintings by Titian, Sorolla, and Boudin, engravings, archaeological finds, decorative arts, and some striking Roman sculptures. 
November Timings- 9:45 AM to 2:00 PM
from €15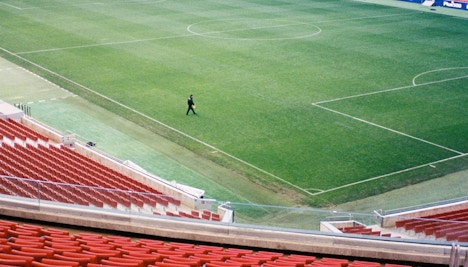 4. Wanda Metropolitano
Stadium
Also known as Metropolitano Stadium in Madrid's Rosas area, it has served as the base for Atlético Madrid since 2017-18. In fact, the UEFA Champions League Finals were also held in the stadium in 2019. The stadium is well connected by three metros, and the city administration plans to get the stadium even more connected in the coming times. 
November Timings: Mon to Sat: 10 AM to 8 PM | Sunday- 11 AM to 8 PM.
from €24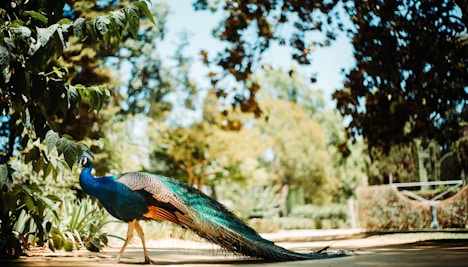 5. Faunia Madrid
Nature Park | Kids-Friendly
The nature-filled experience at Faunia allows one to spend time with varied wildlife like king penguins and manatees. One can see exotic species of animals at this nature park and take part in fun interactions with select animals. Many conservative and protection programs are undertaken at the site, and children can learn more about sustainability and respecting nature here too. 
November Timings- 11 AM to 5 PM.
from €19.5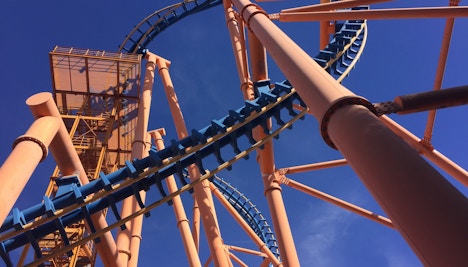 6. Parque Warner
Theme Park | Kids-Friendly
The Madrid theme park is all about having a great time and thrilling rides! You may go with your friends or family to the location and have a variety of play activities. The park is dedicated to Warner Bros.'s films, and there is also a Warner Beach Water Park where guests may cool off and relax together.
November Timings: Monday to Saturday, 12:00 PM to 09:00 PM. More timings here. 
from €39.50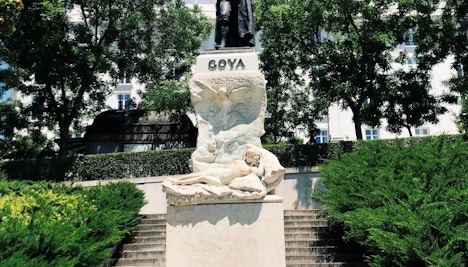 7. Prado Musuem
Arts and Architecture 
Art aficionados would find the Prado Museum to be a real delight, as it is one of the largest and most visited museums in the world. The museum is home to a vast collection of artworks by European masters from the 12th to the 19th centuries. Some of the most famous paintings housed in the Prado Museum include works by Velazquez, Goya, and El Greco. The museum is a must-see for any art lover visiting Madrid in November.
November Timings: Mon to Sat (10 AM to 8 PM) | Sunday: 10 AM TO 7 PM
from €15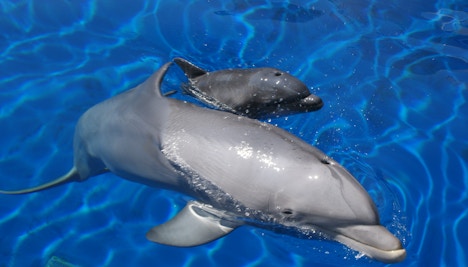 8. Madrid Aquarium Zoo
Theme Park
Located in Casa Da Campo, one can have a thrilling experience in the lap of nature. The Madrid Zoo Aquarium is one of the largest zoos in Europe and is home to over 4,000 animals from 400 different species. The zoo also has an aquarium with over 35 tanks that are home to a variety of sea creatures. The zoo is a great place to spend a day with family and friends, especially if you have kids.
November Timings: Mon to Fri: 11 AM to 5 PM | Sat and Sun: 11 AM to 6 PM

from €21.90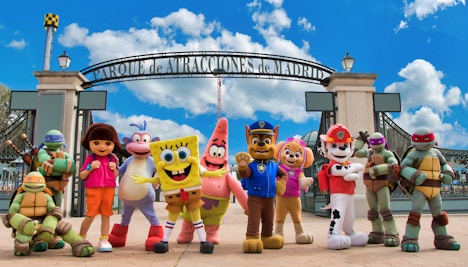 9. Parque De Atracciones
Amusement Park
This is the oldest theme park in Madrid and is a great place to enjoy some time off with friends and family. The park has a variety of rides for all ages, making it a perfect destination for a fun day out. With over 30 rides on offer, there is something for everyone at the Parque de Atracciones. The restaurants and merchandise shops are a total treat to the visitors. 
November Timings: Mon to Thu: 12 PM - 8 PM | Friday: 12 PM - 9 PM | Sat & Sun: 12 PM - 10 PM
from €27.90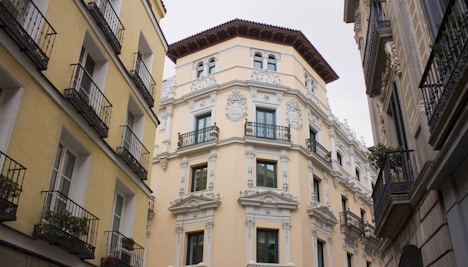 10. Thyssen-Bornemisza National Museum
Art Museum
Thyssen-Bornemisza National Museum has a collection of some of the finest artworks of Europe from the 13th to the 20th century. It is part of the Golden Triangle of Art (along with Prado and Reina Sofia museums). It has the second-largest private collection in the world. Currently, it has 1,600 paintings from artists of different origins. 
November Timings: Tue to Fri: 10 AM to 7 PM| Sat: 10 AM to 9 PM | Sun: 12 PM- 4 PM
from €13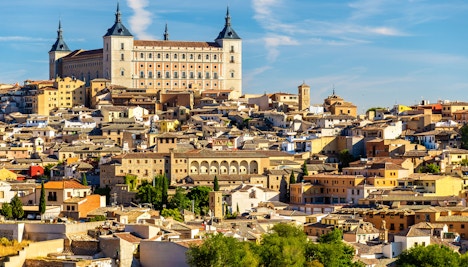 11. Toledo Day Trip
Day Trip | Nearby Cities
Located 72 km from Madrid, Toledo can be reached in less than an hour from the national capital of Spain. Toledo is known for its unique culture and diversity and has many places you can visit during your day trip. Alcázar, Toldeo Cathedral, El Greco Museum, Monasterio de San Juan de los Reyes are few places you can consider visiting. 
from €52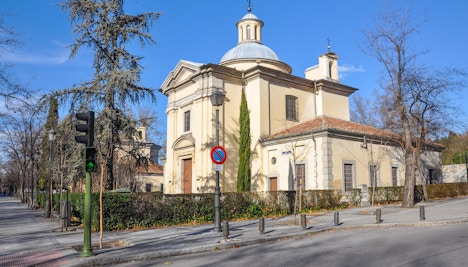 12. Royal Chapel of St. Anthony of La Florida
Religious Monument
This neoclassical chape, one of the hidden gems in the city of Madrid, was built between 1792 to 1798 by Francisco Goya. It also serves as his burial place. The place is well known for its frescoes and dome, with the main focus on portraying the miracles of Saint Anthony of Padua. Since 1905, it has been declared a National Monument, owing to its importance and conservation demands. 
November Timings: Tue to Sun: 9.30 AM – 8 PM
Know more
Festivals in Madrid in November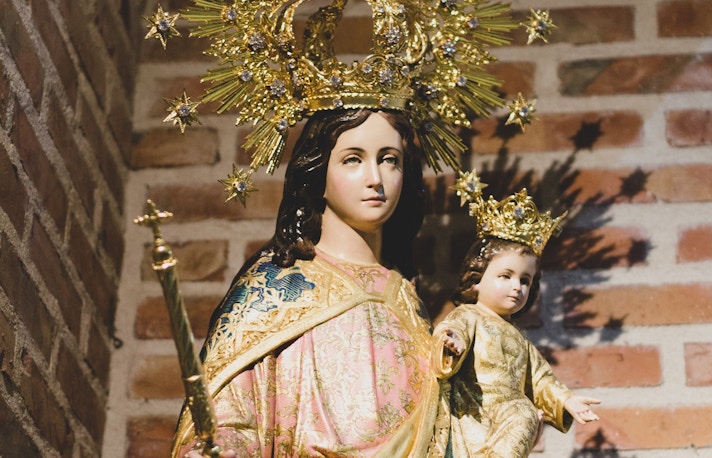 Fiesta de la Almudena
Date: November 9
Venue: Madrid City
The festival is celebrated to honor Virgen de la Almudena, the patron saint of Madrid. The festival is a grand affair with processions, performances, and fireworks. If you're in Madrid in November, make sure to check out the Fiesta de la Almudena.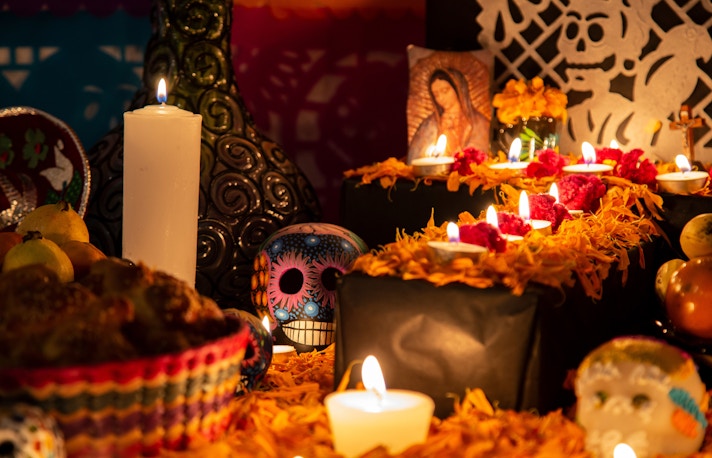 Dia de Todos Los Santos
Date: November 1
Venue: Madrid City
During the festival, locals pay their homage to dear ones who have passed away. Some locals even return home to their ancestral villages to spend time with their relatives and decorate the graves of those in the family who are no more. The day is also a public holiday. 
Events in Madrid in November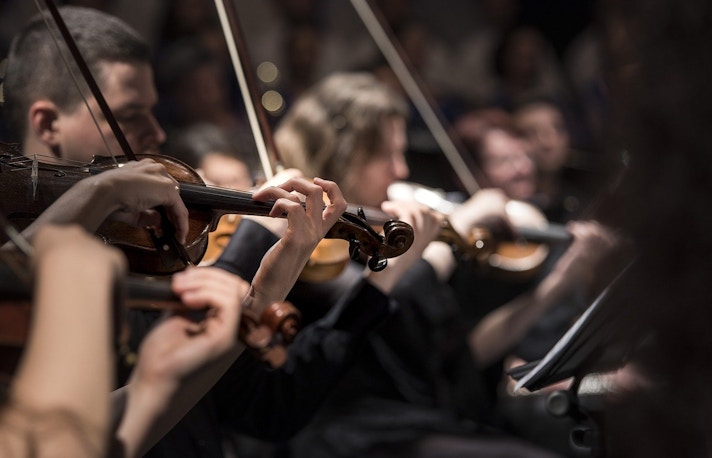 Madrid Jazz Festival
Date: November 3- November 28
Venue: Refer schedule for venue
The Madrid Jazz Festival is one of the most popular music festivals in the city and takes place every year in November. The festival features a wide range of jazz musicians from all over the world, making it a great event for any music lover. Make sure to catch a performance when you're in Madrid in November!
Know more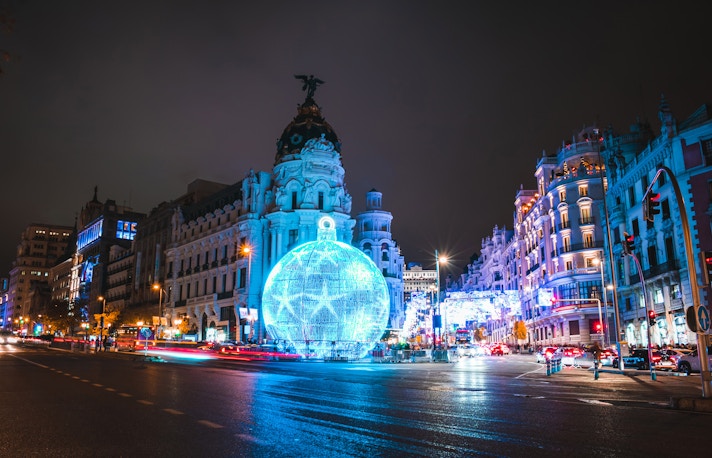 Christmas Lights
Date: November 25 -January 6
One of the most anticipated events in Madrid, the Christmas lights are switched on at the end of November and stay on until early January. The lights are a spectacular sight and make for a great photo opportunity. Make sure to check them out when you're in Madrid in November.
Know Before You Visit Madrid in November
Travel Essentials
What to Wear
What to Pack
Transport
Stay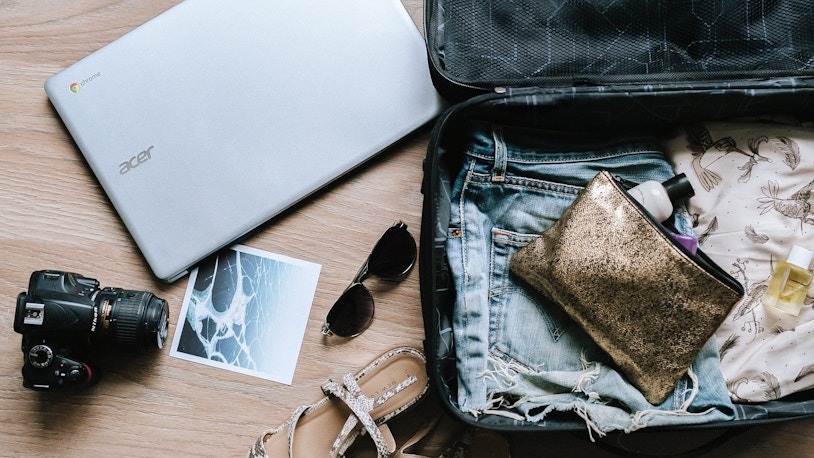 Time Zone: Central European Standard Time (CEST) - GMT + 1
Currency: Euro | EUR | €
Language: Spanish, French
Country code: +34 91
Emergency number: 112
Travel Guide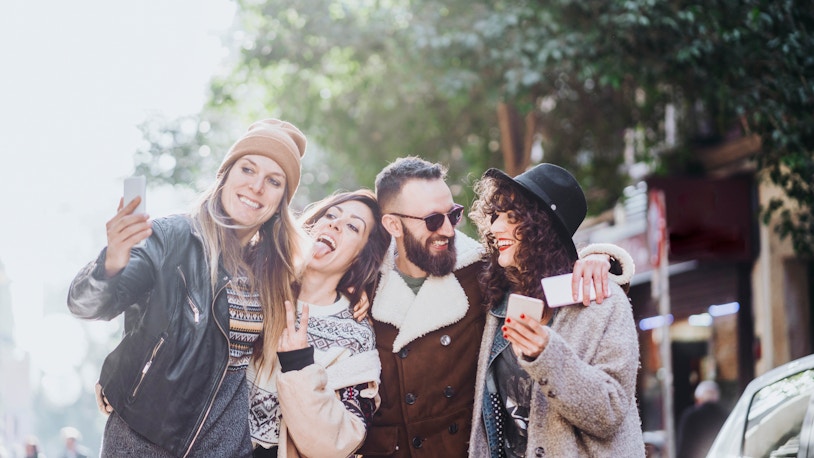 What to Wear in Madrid in November
Nights are chilly, so it is essential to wear warm clothes. Opt for long jackets, sweaters, scarves, gloves, and warm socks.
Long-sleeved clothes and full bottoms can work pretty well during the daytime.
Try venturing out only in waterproof shoes as it may help you escape the wet conditions after rain.
During the day, the temperature is mild, so you can get away with wearing a light jacket or sweater. Don't forget to pack an umbrella as it rains frequently in November.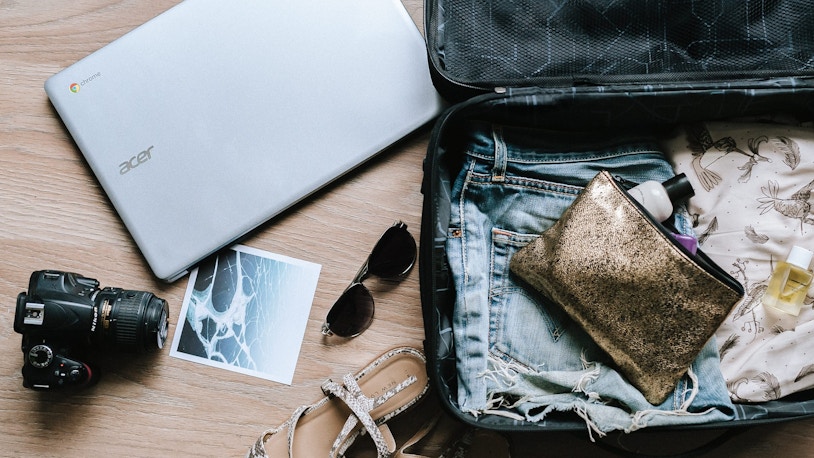 What to Pack in Madrid in November
Bring your raincoats, waterproof or water-repellant shoes, and an umbrella, as it might rain during November.
Prefer packing piles of warm clothes like jackets, sweaters, scarves, mufflers, gloves, and long-sleeved dresses.
Carry your set of medicines required along with prescriptions. 
Layering is always good during November, so you can pack your clothes accordingly.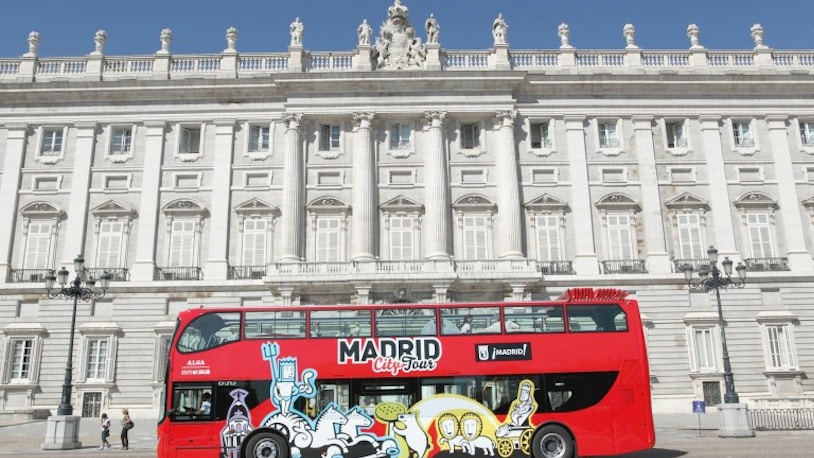 Getting Around Madrid in November
Metro: Metro is the most efficient and fastest manner of travel in Madrid.  With over 300 stations and 12 lines operating, it is the seventh most extensive network of metros in the world.
Buses: The buses in Madrid run 365 days a year connecting major and minor stops throughout the city. The airport is also connected using the bus facility. Currently, there are more than 2000 fleets serving the entire city. 
Trains: Trains connect the city of Madrid to other cities throughout Spain. With two major rail stations, passengers can choose their place and can conveniently move from one city to another or even within the city too.  
Bikes: BiciMAD is the eco-friendly version of the bike used to travel within the city. Even the favorable system for tourists allows them to buy passes as per the day and enjoy the bike rides within the city. With over 2000 electric bikes, there are more than 165 docking stations spread across the city.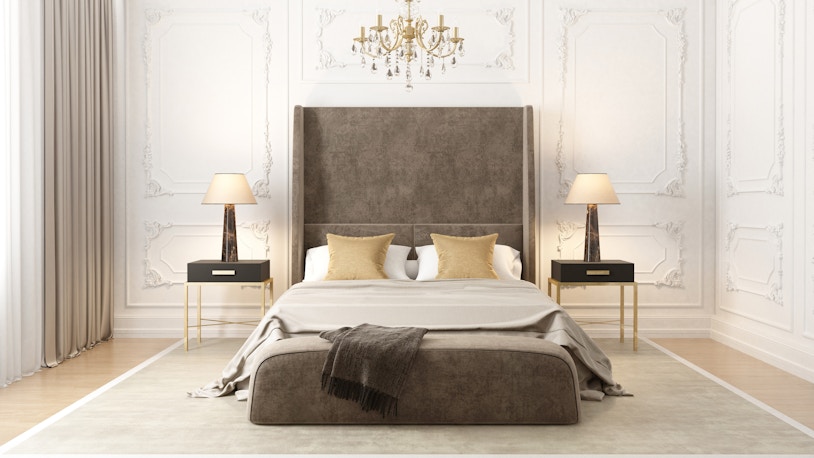 Explore Madrid Through The Year
All Your Questions About Visiting Madrid in November
Is November a good time to visit Madrid?
Yes. November is one of the best times to visit Madrid, especially for those looking for budgeted traveling. 
What are the best things to do in Madrid in November?
Some of the best things to do in Madrid during November is visiting the churches and museums like Prado Museum. You can even try going to some local parks to enjoy the fall season and many festivities and celebrations in Madrid.
Is Madrid cold in November?
It is not too cold during November, and temperatures may dip slightly during the nights. However, the day temperatures range between 6 – 17°C.
How hot is Madrid in November?
The maximum temperature during the daytime in November is 17°C. It is not too hot and offers pleasant weather to visit Madrid.
Can you swim in Madrid in November?
During the daytime, you can consider swimming in November. You can also visit the waterparks in the city for a more fun-filled adventure in the pools. 
Is it sunny in Madrid in November?
Yes, days are sunny in November with chances of some downpours.
What clothes to wear in Madrid in November?
Even though the temperatures are pleasant during November, avoid wearing shorts. Try to opt for long pants and comfortable and warm clothing. During the mornings, full sleeves or fleece will work. However, you have to keep coats and jackets for nights. 
Is it rainy in Madrid in November?
There is rainfall in Madrid during November, with an average of 50 mm downpours throughout the month.
Is Madrid expensive to visit?
During November, the tourist influx in Madrid is comparatively low, so the accommodation and traveling options are pocket-friendly and not expensive during November.
Madrid is safe for tourists as well as solo travelers. However, one should be careful of the pickpockets. Avoid walking alone, especially in the nooks of the city at night. 
What can I see in Madrid in November?
You can consider visiting theme parks like Parque De Atracciones and Faunia Madrid for a fun-filled experience during November. However, as the city is rich in heritage, you can see hidden gems like the Temple of Debod, the Royal Basilica of Saint Francis, etc. 
What are the major events in Madrid in November?
Works of famous Mexican Frida Kahlo would be on display till November 30 in Fundación Casa de México en España. You can also attend the Madrid Jazz Festival that happens in November-December. 
What is the average temperature in Madrid in November?
The average temperature in Madrid is 6°C- 13° C. The daytime is not too hot, and nights are not too cold. 
What are the main festivals in Madrid in November?
Día de Todos Los Santos (All Saints' Day) happens during the month of November. This is done in remembrance of those who have passed away. Churches hold special masses, and people move to the countryside especially to celebrate traditional castañada (eating chestnuts).