Madrid in Winter | Weather, Things to do, Packing Checklist, Travel tips & More
The magical city of Madrid is one of the top winter vacation destinations in Europe. The Spanish capital is renowned for its lively atmosphere, world-famous museums, and beautiful architecture. With its convenient location, excellent public transportation system, and mild Mediterranean climate, Madrid is a great place to visit during the colder months.
Madrid in Winter: At a Glance
When: November to January
Average Temperature: 6ºC-14ºC
Average Rainfall: 56 mm
Average Daily Wind Speed: 7.9 m/hr 
Average Sea Temperature: 6.2°C
Average Daytime: 9 hours
Why visit Madrid in Winter?
1. Ideal Weather
In December, the weather in Madrid is remarkably similar to that in many northern and central European nations or the northern states of the United States. In Madrid, you won't find slush or rapid temperature shifts. Temperatures may decrease throughout the day, although it's not unbearable. By mid-afternoon, it's already hot, but it's still rather cool in the nights and early mornings.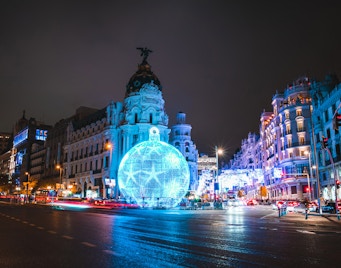 2. Go on a Day Trip from Madrid
Here in Madrid, the odds of a snowy Christmas or a white January are slim. Don't rule off Madrid just yet if you can't envision a winter without snowfall. Visit Navacerrada, a little ski resort in the Guadarrama Mountains, about an hour's drive north of Madrid. In January, it's a top pick for getting out and being sporty in Madrid.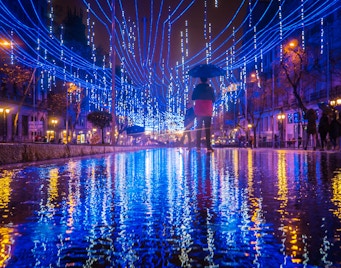 3. Off-Season Perks
Winter is a great time to visit Madrid. To get a genuine picture of Madrid's way of life, you should visit the city between November and March, when it is calm. There are still some tourists, but it's far less crowded than it was at the height of tourist season.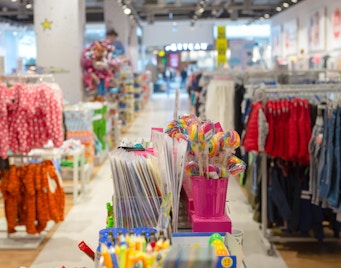 4. Go Shopping
Let the buying begin! Visit Madrid in January and take advantage of Spain's national semi-annual sales season, known as Rebajas. From clothing to gadgets to home décor, stores all around Spain have a sale this month. As the month progresses, prices drop, but your options are also reduced, so pick carefully!
What to Look Out for in Madrid in Winter?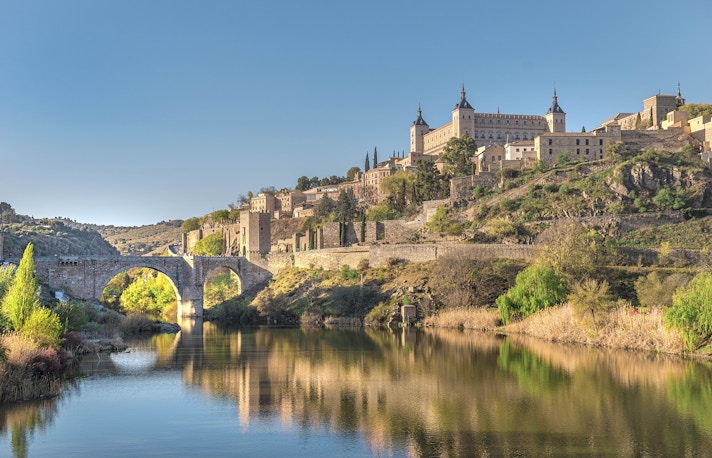 1. No Beaches Nearby
Madrid, despite its many attractions, does not have a coastline or beach. You'll have to go elsewhere in Spain if you're hoping to dwell near the shore. However, it is a great position from where you can explore Spain's various seaside destinations.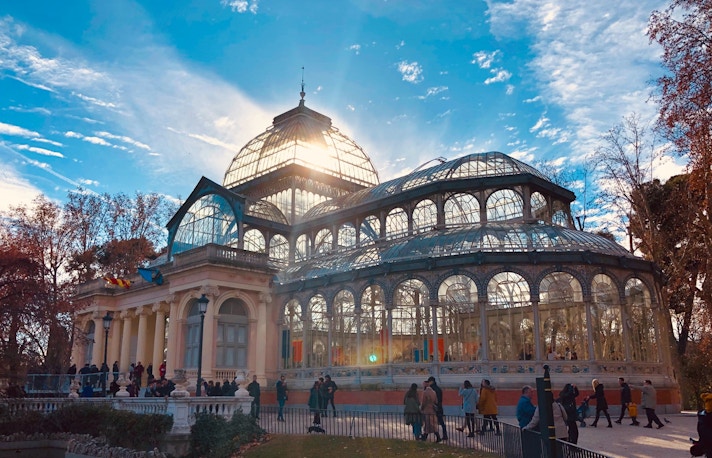 2. Poor Air Quality
Madrid's air quality might need some improvement. This is hardly surprising, given that the city is one of Europe's most densely inhabited. Traffic-clogged streets and idling cars are the driving factors for poor air quality in Madrid.
What to Wear?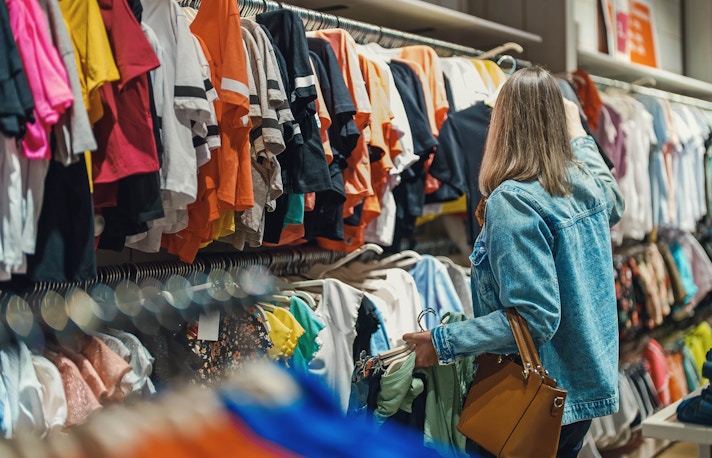 What to Wear in Madrid in Winter?
The typical winter temperature in Madrid is 6–8℃, so you'll want to dress warmly if you want to take advantage of the city's many outdoor activities. You'll fall in love with Madrid in the winter, with its quaint seasonal markets and warm patios.
Madrid's high altitude makes winters very cold, so dress warmly when exploring Retiro Park's tree-lined streets.
Dress in layers to adjust to the temperature. When exploring indoor attractions you can always get rid of some.
As a base layer, thermal tops are ideal if you are prone to cold.
Wearing a thick scarf during the winter months is usually a smart idea. It'll keep you cozy and fashionable at the same time!
Madrid does get chilly, and when it does, you'll thank yourself for packing a warm coat!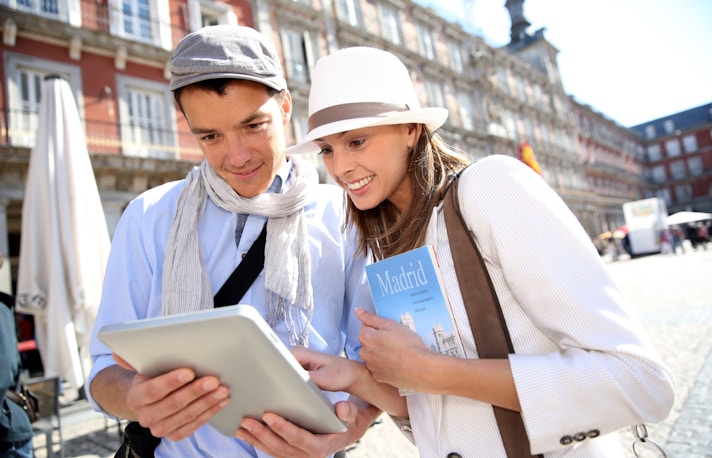 What to Pack for Madrid in Winter?
Thick tights are a need if you want to wear skirts or dresses since they keep your legs warm.
You must have a set of heated footwear to stay on your feet warm. Additionally, bringing boots will warm you up and keep you snug from dawn till dusk.
Adding a hat and mittens to your attire is a simple way to spruce things up and keep you warm. If you're going to be in Madrid while it's windy, you'll want to be prepared.
There are sporadic rain showers throughout the spring. Having a tiny umbrella on hand is usually a smart idea.
Top Things to do in Madrid in Winter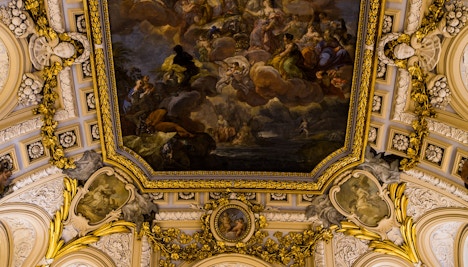 1. Visit the Royal Palace
Indoor Landmark | Must-Visit
The primary role of the Royal Palace is to hold formal events, as is the case with many European royal houses. But it is accessible to visitors and tourists. The front of the building is stunning, but what awaits within is a stunning collection of artwork and exquisitely designed interiors. Winter is ideal for visiting and spending some time indoors. The palace also features a gallery and a visitors center from where tourists may enjoy spectacular views of the surrounding area.
from €13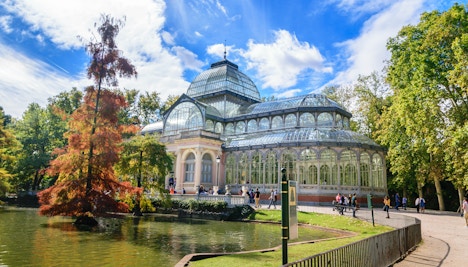 2. Roam Around Palacio De Cristal
Indoor Attraction | Must-Visit
Palacio De Cristal, a palace constructed entirely of glass on a steel frame adjacent to a picturesque lake in Retiro Plaza, is particularly stunning at night when illuminated. This palace mostly functions as a greenhouse and holds plant and flora displays. If you're planning a vacation to Madrid with your significant other, the Palacio De Cristal is a top romantic spot to go to. You can also go boating on the lake with your loved one beneath the Cristal Palace's magnificently lit decorations.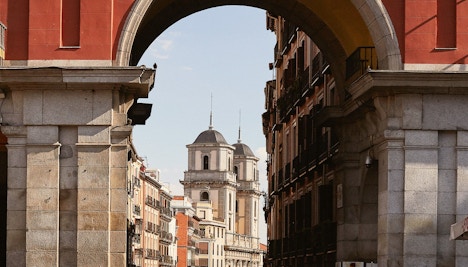 3. Visit Puerto Del Sol
Shopping Market
Puerto Del Sol, Madrid's retail district, is one of the city's busiest streets. The gate's sun symbol inspired the name. All kinds of clothing, shoes, jewelry, and confectionery are available here. The first thing you should do when you arrive at this market is to buy a large bag to put all of your purchases in. If you're visiting Madrid in winter, you should not skip this stop on your list of must-see attractions.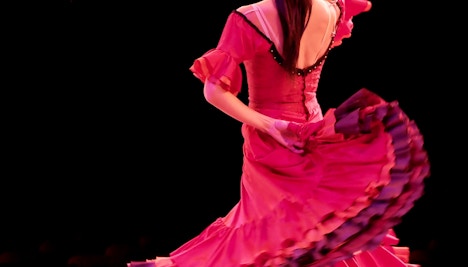 4. Be immersed in Flamenco
Heritage | Outdoor Attractions
Flamenco is well recognized nowadays because of the big recording facilities in Madrid. Although this performance began in Andalusia, you can see it at taverns and theaters all around the city on any given day of the week. Winter nights are the ideal time for this. Flamenco shows are offered at many venues, and customers may have a wonderful meal or a drink of wine while listening to the music.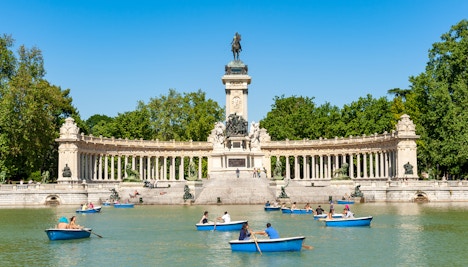 5. Spend Time at Retiro Park
Lesuire | Outdoor Attraction
Parque Retiro, Madrid's primary park, is a great place to relax at the end of a long day. It's a vast park filled with water features, historical landmarks, and art.  Even at night, this park is a sight to see.  The sunset in Madrid in winter is spectacular, and it's recommended that you don't miss a single sunset while there. Whether with your family or by yourself, this is a great spot to take advantage of the fine weather in Madrid.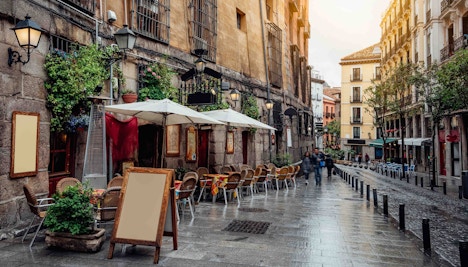 6. Visit the Madrid Market
Market | Fashion
The best time to shop in Madrid is during the winter months. The months of Winter are ideal for consumers who are looking for one-of-a-kind offers. In winter, individuals tend to spend more on souvenirs and presents, therefore prices tend to rise. After the New Year's Eve festivities, however, prices fall. Shopping is now both enjoyable and lucrative at the same time. The "Golden Mile," Madrid's most affluent district, is a fashionista's dream come true.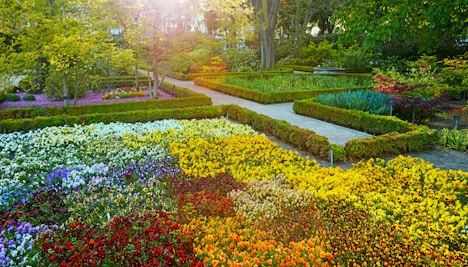 7. Visit the Botanical Gardens
Outdoor Attraction | Gaden
The Royal Botanic Garden has more than 30,000 species of plants. In the dead of winter, the garden's lanes are deserted, but the evergreens and emerald moss islands that dot it shine out. In winter, a visit to Madrid's botanical garden will be a treat for people who value nature and like looking at flora. In the winter, tropical greenhouses are at their most welcoming, surrounded by cactus and vines of various shapes and sizes, in a sea of greenery of all hues.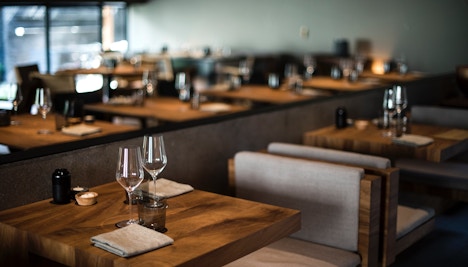 8. Follow Hemingway's Way
Famous Personalities
Over the years, many actors, artists, and authors have wished to visit Madrid for a variety of reasons. This city has always been a magnet for the world's most eminent thinkers because of its openness and elegance. Every time Ernest Hemingway went to Madrid, he always had a great time at the city's taverns. Old pubs and restaurants as well as notable breakfast and brunch establishments bear his name in some fashion.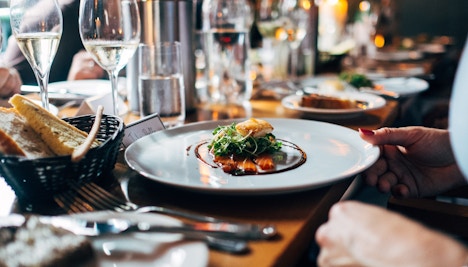 9. Enjoy Winter Food
Restaurants | Gastronomy
Foodies in Madrid can find enough to enjoy in January. When it's cold outside, Madrid's characteristic three-course stew, Spanish lentil stew with chorizo, and of course churros and chocolate take center stage. After a long day of adventuring in the cold, there's nothing better than these comfort foods to relax.
Events in Madrid in WInter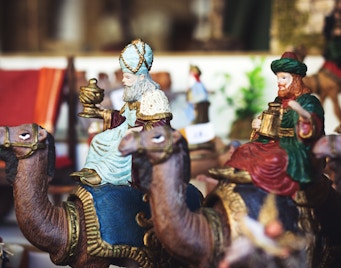 The Three Kings Parade
Venue: City Hall
Date: January 5
Every nation has its own unique set of Christmas customs. Many Spaniards, on the other hand, believe that January 6th is the most significant Christmas day. The Three Kings give their gifts to Spanish children the night before Christmas, therefore many of them open their presents on December 6th. Beginning on January 5th, a royal procession arrives in Madrid.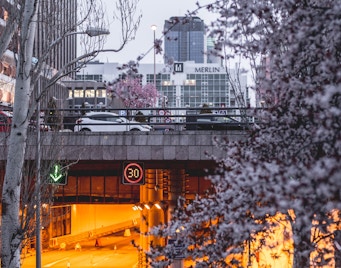 Madrid New Year
Venue: Across Madrid
Date: December 31
Locals in Madrid are well-known for their propensity for partying till dawn at the city's many restaurants, pubs, and nightclubs. As a means to really immerse oneself in the Spanish festivities, one should travel to the city center of Madrid.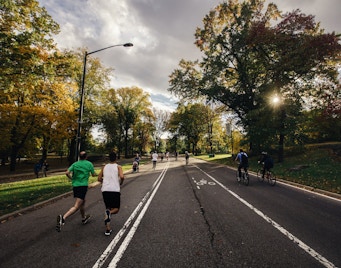 Madrid Race
Venue: Vallecas
Date: 31 December
A 10 km road race is conducted every year in Madrid, Spain, on the 31st of December known as the San Silvestre Vallecana. For amateur athletes, there is a fun run, and there is an elite event for professionals. Many New Year's Eve events have been inspired by Brazil's Road Race, which has been going on since 1925. It's one of the city's most popular yearly running events, alongside the Madrid Marathon.
Christmas
Venue: All over Marid
Date: 24-24 December
Christmas in Madrid is among the city's most cherished and dreaded holidays. There are ice skating rinks put up inside the municipality's squares, enormous Christmas trees are decked up in decorations, and the sky is lit up with twinkling lights. Positive energy permeates the air, and this is particularly apparent among the many schoolchildren who have already begun their winter break.
Tips and Hacks to Visit Madrid in Winter
When traveling to Madrid in winter, you'll still need a coat, jacket, and mittens in order to be warm and protected.
Spaniards like dining al fresco throughout the year, so don't miss out on this unique experience.
Prepare for rain with sturdy footwear and umbrellas even if it doesn't rain every day.
Please be aware that during the holidays, many local businesses and stores are closed.
Know Before you Visit Madrid in Winter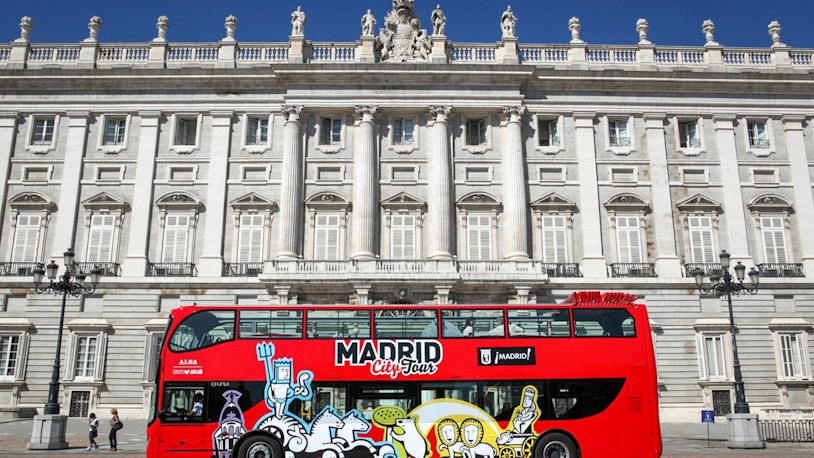 Getting Around Madrid in Winter
The city's public transportation system is very effective, connecting the city's major tourist attractions while also being reasonably priced.
Bus: The local bus service in Madrid is called EMT. More than 200 routes connect the city's core with outlying areas through the city's 2,000 blue buses. From 6 a.m. to 11:30 p.m. every day, buses are on the road every 15 minutes.
Metro: Over twelve lines link 300+ stations, making Madrid's metro system one of the city's most reliable and quick modes of public transit. Using a color-coded system, maps are easier to read and understand. The metro website provides a useful route planner and comprehensive maps to assist your travel.
Cercanias: Individual paper tickets are no longer used in the Cercanias system, which instead uses contactless cards similar to those used in the metro. To buy the T card, go to any of the Cercanias stations.
Taxi: Taxi rides are sometimes necessary. To identify an official cab in Madrid, look for its distinctive green light and red diagonal stripe on the door.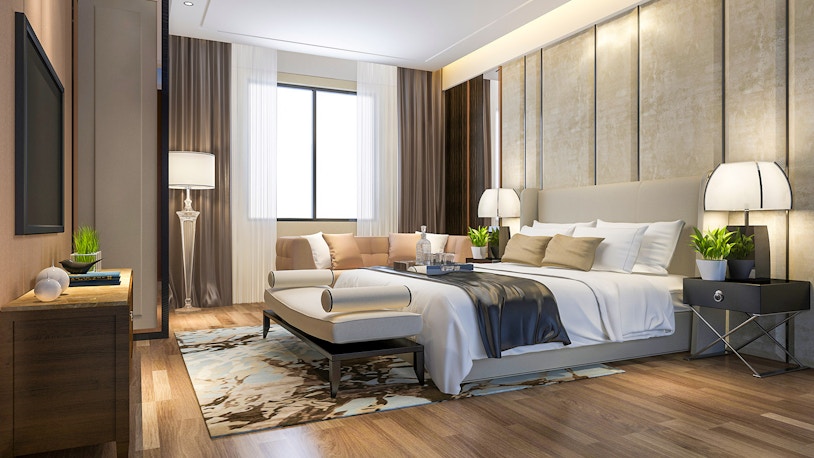 Where to Stay in Madrid in Winter
With a touch of chilly weather, winter is an excellent time to visit Madrid. There's a lot to do, from shopping during the winter discounts to celebrating the Three Kings Day celebration. However, it's far less crowded than it was in Peak Season, making for a much more tranquil environment.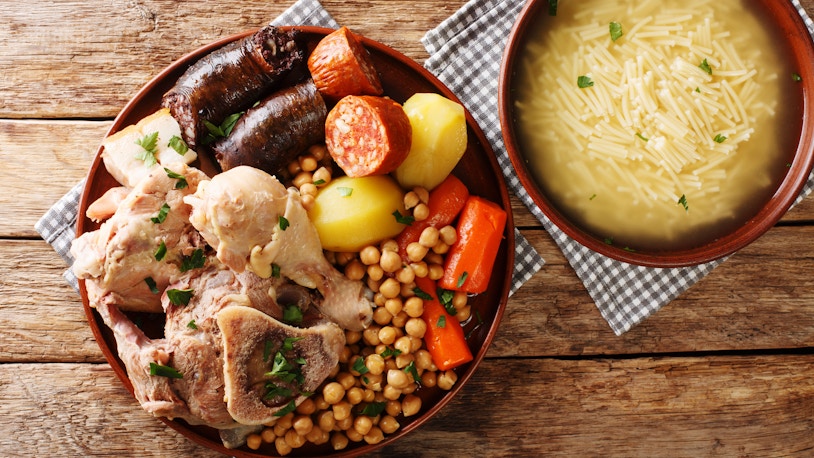 What to Eat in Madrid in Winter
Fabada Asturiana: Fabada asturiana is a great way to get a flavor of northern Spain in Madrid. Morcilla and pork shoulder are the star ingredients in this meaty stew. This meal originated in the province of Asturias, but it has now become a national staple.
Cocido Madrileno: To begin the pleasure of eating cocido, you'll want to start with a bowl of noodles. This is followed by the main course of chickpeas, potatoes, chorizo, and beef shank along with hog belly.
Sopa de Lentejas: Sopa de lentejas, another traditional meal made with legumes, is a beloved family favorite. Lentils, onions, shallots, potatoes, chorizo, and smoky paprika are all you need to prepare this healthful and tasty meal.
Caldo: Caldo, which translates to "broth" in Spanish, is a simple, typical winter dish in Madrid. Served in tiny cups or bowls, the broth made from slow-cooked beef, stew bones, and veggies is a winter wonderland.
Frequently Asked Questions About Visiting Madrid in Winter
Is winter a good time to visit Madrid?
If you are okay with the gloomy weather and a somnolent Madrid, winter is a good time to come since hotels lower their prices.
How cold is Madrid in winter?
There are a few snowstorms in Madrid during the winter months of December and January, which are the coldest months of the year. It's a myth that Madrid gets a lot of snow. The lowest temperature of the year is in January, with average lows of 6 °C.
What is the average temperature in Madrid in winter?
Madrid does not have a reputation for having a lot of snow. Average temperatures in January may fall as low as 6ºC.
Is it sunny in Madrid during winter?
In Madrid, the skies are typically overcast with mild rain throughout the winter.
Is it windy in Madrid during winter?
Yes, Madrid remains a little windy in Winter.
What clothes to wear in Madrid in winter?
Even if the winters in Madrid are mild compared to other European locations, the majority of residents nonetheless dress appropriately for the occasion. To keep warm, you'll need a winter coat and thick scarf as well as hats and gloves.
Is Madrid cheaper in winter?
During the winter months, hotel and restaurant prices are less expensive, and lineups for museums and tourist attractions are less crowded.
Is Madrid expensive to visit in winter?
Yes, Madrid can be quite expensive to visit during the winter months. However, there are ways to save money while visiting the city. Another way to save money is to book your accommodation in advance. Additionally, eating at cheaper restaurants and avoiding tourist traps can help you save money while visiting Madrid.
What are some things to do in Madrid in winter?
You can walk around the botanical gardens, visit a UNESCO site, or celebrate Christmas and be mesmerized by the glittering lights
Madrid is considered to be a fairly safe place to visit.
What can I see in Madrid in winter?
You can visit the Retiro park, go on a cycling trip, visit the palace royale, and many more.
What is closed in Madrid in the winter?
A number of attractions remain shut down on weekends in Madrid in Winter.
What adventure activities can I do in Madrid in winter?
You can visit a lot of places in Madrid in Winter. Attend the three kings parade and the Madrid race to make the most of your time.
What are the free things to do in Madrid in winter?
Tourists may visit museums, churches, and an open-air market all for free.
Can you swim in Madrid during the Winter?
In the winter, you may swim at your own pace or sign up for inexpensive swimming classes.
What is the average temperature in Madrid?
The winters in Madrid are long and chilly at around 6ºC, while the summers are brief and blisteringly hot.
What to do with kids in Madrid in the Winter?
In the Winter, you may visit most of Madrid's most popular sites with your family.